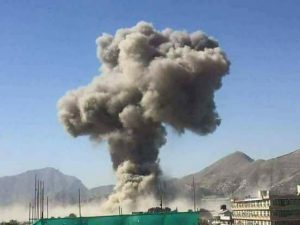 Today, a strong explosion rocked Kabul city around 8:20 am.
According to (DID) news agency report, the blast took place between road 17 of Wazir Akbar Khan and Zanbaq square.
According to eyewitnesses, the incident caused by the explosion of a car bomb, leaving heavy casualties.
It is said that the intensity of the explosion was so high which it was heard in distant locations of Kabul.
The ministry of public health confirmed that at least 80 people were killed and more than 350 wounded in this incident.
The explosion occurred in an area where the presidential palace, executive directorate, and some important government and non-government offices are located.