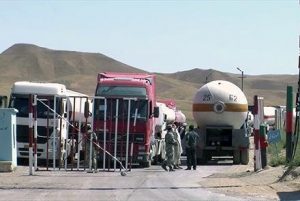 The Afghan government is set to build a number of cargo clearance centers at border crossings around the country in order to boost Afghan exports, the Ministry of Commerce and Industries (MoCI) said on Saturday.
Construction of these clearance centers will be carried out by a company from the United Arab Emirates, the MoCI spokesman Musafir Qoqandi told TOLOnews.
According to him, the centers will provide cold storage, packaging and other facilities for businessmen.
"The centers will be built based on international standards which will have all the needs of a dry port in order to make better use of ports in the country," Qoqandi added.
Meanwhile, the Ministry of Finance said the construction of these centers would help provide more facilities to businessmen. Quoted from (Tolo news).
"With this initiative we can provide more facilities to national businessmen. We are discussing this with relevant companies. Practical steps in this respect will be taken in the near future," said Ajmal Abdul Rahimzai, spokesman for the Finance Ministry.
Afghanistan Chamber of Commerce and Industries (ACCI) spokesman Siyam Psarlai said the country's exports will increase after building the ports.
"Dry ports have special importance for Afghanistan. The transportation cost will drop by 25 percent if the dry ports are constructed," he said.
The UAE Company will reportedly first start work on a center at Aqina Port in Faryab province and at Nimroz ports.