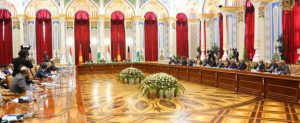 Officials from Afghanistan, Tajikistan, Pakistan, and Kyrgyzstan stressed on beginning the work and implementation of the Casa-1000 project simultaneously in all four countries at the second summit of the Casa-1000.
According to (DID) news agency report, Mohammad Ashraf Ghani who had traveled to Dushanbe, the capital of Tajikistan, said: a lot of efforts have been made to make this project a reality, according to ARG.
"We have completed all Casa logistic process, the contracts are ready to be signed, and the funding and facilitation have been done," Mr. Ghani said.
Meanwhile, the Pakistani Prime Minister, Nawaz Sharif said: the project is a big business in the region, which will boost the economy in Pakistan and Afghanistan and will have a positive impact on the environment.
Casa-1000 is one of Central Asia's major energy transit project to Pakistan and India through Afghanistan which will transfer 16000 megawatts power per year.
Afghanistan and Pakistan have a difference on whether India is involved in this project, while Afghanistan insists that India should be present in the project; Pakistan opposes to its presence.
This project cost more than one billion dollars, which the World Bank is paying half of the money.