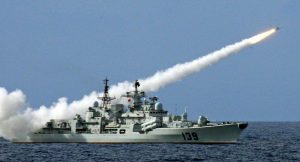 On the verge of the declaration of a $1 billion sanctions program aiming North Korea's coal, lead and iron exports, Chinese naval forces is conducting more than ten kinds of military drills in the Yellow Sea.
Chinese naval forces will conduct more than 10 kinds of drills and launch dozens of types of missiles during four days of live-fire exercises off the Korean peninsula, according to state media.
The exercises included aerial interception and assaults by land and sea, it said.
"The latest drill was a warning to Pyongyang," said Malcolm Davis, a Chinese defense specialist at the Australian strategic policy institute.
"Bejing is sending a message to the North Koreans that they will be effective in any conflict if war is to break out," he said.
"States do this because they want to send a signal," Collin Koh, a maritime security expert at Singapore's Nanyang Technological University said.
"It's not just targeted at North Korea," he added.
The exercise will be offensive and defensive manoeuvrers with surface ships, submarines, air support, and coastguard forces, state C.C.T reported.