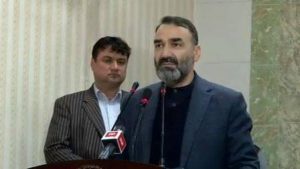 The Chief Executive of Jamiat-e-Islami and Balkh governor Ata M. Noor accused certain circles within the government of arming "plug-uglies" to spark chaos and destabilize Balkh province.
Speaking during a gathering and among his supporters in Balkh province, Mr. Noor said: "the security council in 15 street of Wazir Akbar Khan, are funding and arming some people and sending them to Balkh province to destabilize Balkh province."
Mr. Noor once again warned the ruling team not to sharpen their teeth on Balkh, otherwise, he would break their teeth.
"I want from the president, the security council, and defense minister to answer, who ordered "summons" to Shaheen 209 corps," he stressed.
He warned that the ruling team is seeking to implement its "secularist" goals using the cover of Islam.
"I prevent the implementation of ISIL project in Balkh province, so they are pushing to remove me," he asserted, saying he awaits the negotiation between Jamiat Islami and ARG palace to have tangible outcomes.
Mr. Had earlier accused the Afghan security council of destabilizing North and Balkh province.
Mr. Noor had earlier admitted that he had submitted his resignation but had several demands before stepping down, emphasizing that no one of them has been met by the government while his resignation has been approved.