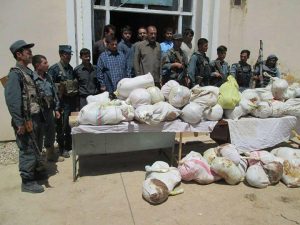 "Police seized 900 kg opium after conflicts between the Taliban and the drug traffickers," officials in Jawsjan province said.
According to DID news agency report, on Monday, Taliban members clashed with drug traffickers in "Dasht-e Layli" area, security chief in Jawzjan province Abdul Hafiz Khashi said.
"3 smugglers were killed in the clashes," Khashi added. But the Taliban forces ran away as police forces arrived.
He added that the police confiscated 900 kg opium from a car belonged to the drug traffickers.
"Jawzjan's police have given the corpse to their relatives after taking them to the capital of the province," Khashi said.
It should be noted that insurgents have gatherings around Jawzjan province, particularly in Dasht-e Layli – which is near Sar-e Pul and Faryab provinces.