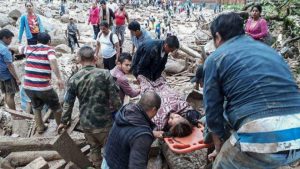 An avalanche of water from three overflowing rivers tore through a small city in Colombia while people slept, destroying homes, sweeping away cars and killing at least 193 unsuspecting residents.
The incident triggered by a sudden, heavy rainstorm happened around midnight in Mocoa, a provincial capital of about 40,000 tucked between mountains near Colombia's southern border with Ecuador.
Muddy water quickly surged through the city's streets, toppling homes, ripping trees from their roots and carrying a torrent of rocks and debris downstream. Many residents did not have enough time to flee. Quoted from (ABC news).
According to the Red Cross, 202 people were injured and 220 believed missing. President Juan Manuel Santos declared a state of emergency on Saturday and said the death toll will likely rise but warned against speculating how many are dead.
The crisis is likely to be remembered as one of the worst natural disasters in recent Colombian history, though the Andean nation has experienced even more destructive catastrophes. Nearly 25,000 people were killed in 1985 after the Nevado del Ruiz volcano erupted and triggered a deluge of mud and debris that buried the town of Armero.