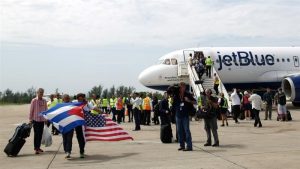 The Cuban government of Raul Castro has criticized Donald Trump's "hostile rhetoric" in announcing new restrictions on US ties to the country, but repeated its willingness to hold "respectful dialogue" with Washington.
Earlier on Friday, the US president pledged to overhaul his predecessor Barack Obama's Cuba policy.
"The government of Cuba denounces the new measures toughening the embargo" imposed since 1962, according to a statement read on Cuban state television. Quoted from (Aljazeera).
Although the policy changes announced were limited, Trump has tightened rules for Americans travelling to Cuba, banned ties with a military-run tourism firm and reaffirmed the existing US trade embargo.
The Cuban statement criticized the "hostile rhetoric that recalls the time of open confrontation," and "return to the coercive methods of the past".
It regretted "a reversal in relations between the two countries".
"Any strategy to change the political, economic and social system in Cuba, whether through pressure … or through more subtle methods, will be doomed to failure".
Some 285,000 people visited the Caribbean country in 2016, up 74 percent over 2015, with Americans the third-biggest group after Canadians and Cuban expatriates.