Current year is a Hard one for security forces: defense minister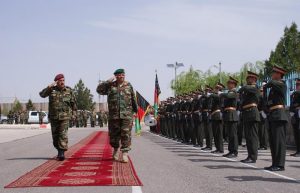 Today, Abdullah Habibi, the defense minister, heading a high-level delegation arrived in Herat province.
According to (DID) news agency report, today, Abdullah Habibi, the defense minister, heading a high-ranking delegation entered Herat province to review the security status of west provinces of Afghanistan.
Mr. Habibi talked about the plans of the defense ministry in the current year and stated that war with the intelligence of the region and fight against corruption and drugs are the priorities of the ministry.
He also praised the courage and heroism of the country's soldiers.
The defense minister said that this year is a difficult year for the security forces, and added that the ground and air troops of the country have also become powerful.
Mr. Habibi noted that soon border guards will be integrated with public protection forces.
National defense minister accused some neighboring countries of equipping oppositions against the government of Afghanistan and asserted that if this process continues, we will show military response.