The casualty toll from a suicide blast at a voter registration center in the Afghan capital Kabul on Sunday rose to at least 31 killed and 54 wounded, health ministry spokesman said.
---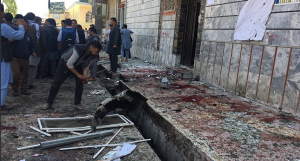 According to AMAQ news agency, ISIS claimed the responsibility on voter registration center in Capital Kabul.
The Islamic State claimed responsibility for the blast and the Taliban have denied involvement.
According to health officials, at least 31 people were and killed and 54 wounded in the incident.
On Sunday morning, a suicide attacker detonated its explosives in front of an ID card distribution center in PD6.
President Ghani and chief executive officer Abdullah condemned the attack.