Reports from eastern part of the country suggest that clashes launched between Daesh terror group led by "Mangal Bagh" and Lashkar-e Islam in "Achin" district of Nangarhar province Sunday.
---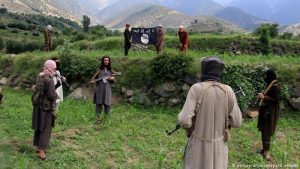 The reason behind the conflict has said to be capturing the mines and forests.
It is said that 7 member of Lashkar-e Islam were killed and 16 others wounded during the clashes.
On the other side, 5 ISIL fighters were killed and more than 8 other members wounded.
In addition, it is said Daesh terror group has taken 45 members of Lashkar-e Islam as hostages and several families have abandoned the area.
Clashes between two terror groups take place in eastern part of Afghanistan while Kabul government just watch the status and there is a possibility the conflicts spread to other regions.
Lashkar-e Islam have also influence between Afghanistan and Pakistan border and organizes attacks.
It is said that this terror group has ties with circles within the Afghan government and is supported.
According to statistics, more than 20 terrorist groups have activities in Afghanistan and sometimes clashes with each other.