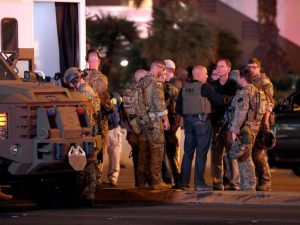 FBI investigators say they have found no links between the Las Vegas attack and international terrorist groups after ISIL claimed responsibility for the deadliest mass shooting in American history.
In a brief statement, FBI special agent Aaron Rouse said the bureau had "determined to this point no connection of an international terrorist group".
Meanwhile, Daesh claimed a "soldier of the Islamic State" was behind the killing.
But Mr. Rouse, a former counter-intelligence chief, who is the lead agent in charge of the Las Vegas district, appeared to dismiss this claim, saying there was no evidence of any link to the Islamist group. Quoted from the Independent.
The probe quickly moved from Las Vegas' famous strip of hotels and casinos to a retirement home in the small desert town of Mesquite.
Heavily armed police were searching the single-family home where 64-year-old Paddock lived with 62-year-old Marilou Danley, who police said was not involved in the attack.
At least 59 people were killed and more than 520 injured after Stephen Paddock fired into a crowd of concert-goers late on Sunday.