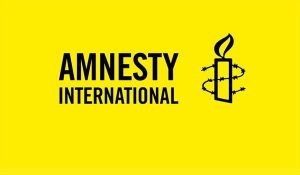 It is time we all stand up together and put a stop to the politics of demonization which is creating a divided and dangerous world.
According to (DID) news agency report, quoting from (Amnesty international) – Amnesty International calls on people around the world to not let the rhetoric of fear, blame and hate erode the vison for an open society based on equality. If each individual takes a stand and acts to protect our human rights, together we can turn the tide.
2016 was the year of "us against them", of populist leaders singling out groups of people as a threat to national interests. If more countries rollback our rights in the name of national security, the result could be a total collapse of the foundations of universal human rights.
Peaceful movements such as the International Women's March, the pro-democracy protests in the Gambia and the Ayotzinapa student protests in Mexico should inspire us all to stand up for our freedoms.
Refugee crisis – Many governments turned their backs on refugees and migrants, often an "easy target" for scapegoating. In 2016, 36 countries violated international law by illegally sending refugees back to a country where they would face torture, violence, death penalty and where their rights were at risk. While Australia inflicts terrible suffering on asylum seekers in nearby islands Nauru and Manus, the EU made an illegal and reckless deal with Turkey to send refugees back there, even though the country cannot protect their human rights.
The state of the world: A global pushback against human rights
Seismic political shifts in 2016 exposed the potential of hateful rhetoric to unleash the dark side of human nature. Whether it is Trump (USA), Orban (Hungary), Modi (India), Erdogan (Turkey) or Duterte (the Philippines), more and more politicians call themselves anti-establishment and wield politics of demonization that hounds, scapegoats and dehumanizes entire groups of people to win the support of voters.
This rhetoric will have an increasingly dangerous impact on actual policy. In 2016, governments turned a blind eye to war crimes, pushed through deals that undermine the right to claim asylum, passed laws that violate free expression, incited murder of people simply because they use drugs, legitimized mass surveillance, and extended draconian police powers.
We cannot rely on governments to protect our freedoms, and so we have to stand up ourselves. We have to come together and resist the rollback of long-established human rights. We must fight against the deceitful narrative that we have to trade of our rights in exchange for prosperity and security.