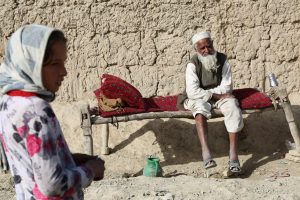 War, unemployment, economic problems, and personal feuds has caused displacement of a number of families. It is said that their numbers reaches to two million now. Kabul is their ultimate goal and they think their lives get better there, but they face other problems when they enter Kabul.
Bagrami camp is one of the places where lots of families from insecure provinces of the country such as; Helmand, Kunduz, and Jalalabad go there. More than thousands families live there. Muddy walls, small rooms, ripped tents represent the pinnacles of their poverty.
Ahmad Wali, a 10-year old boy could save himself and his aging mother, when his father was killed by ISIS group in "Achin" Nangarhar's district and came to Kabul.
At first, when Daesh entered Nangarhar province, they had good behavior with the people, specially with children, although they did not know our language, but they acted in a way that they are good people and came to help the people, but their demeanor gradually changed and finally, it was the time that they beheaded the infants and forced the people to help them providing their food. If a person rejects their demands, the penalty was death.
Ahmad Wali and his family have lived in Kabul since a year ago. He is the only breadwinner of the family who washes the cars during the day. He cannot go to school due to distance of the way and even if he goes to school, he should walk three hours to get to school, this way, he cannot continue his work and there is no school inside the camp.
Inzar-Gul is the person who has the responsibility of the camp for years. He says: "this place has a lot of problems, but our major problems are the lack of school and clean water. We have to buy a barrel of ten liters of water for ten Afghanis and many children get sick due to lack of water and it becomes more and more with the arrival of warm season. We have referred to the ministry of education several times, but they just promise and nothing else! We all know that going to school is a fundamental right of every child and children who live in the camp are deprived of their rights more that lack of school is the important one."
Zaher; is from Kunar province. Currently, he is living in Kabul for 6 months. He says that he is an "artist." Daesh warned his family to give up singing and join them to fight against foreigners; if he does not accept their invitation, ISIS will kill all of his family men and will capture the women and girls. He also decided to come to Kabul during night and Daesh set his house on fire in the morning.
Zaher: When we arrived Kabul, we did not have anything just our clothes. Inzar-Gul provided us needed means from every family and now we live here.
Bagrami camp is located in one of the remotest part of Kabul and the residents have complained about the security, and say that armed men broken into their house at night and rubbed them. In some cases they clashed with local people and injured some.
The internal displaced people (IDP) urge the government to deal with their problems and provide suitable places to live in Kabul. If the government does not do that, so provide the security of Northern provinces, in order to return to our homes.
Fatema Faizi – (DID) news agency
Translated by: Taher Mojab