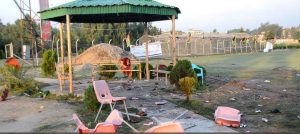 At least 9 killed and 42 others were injured following back-to-back explosions took place in eastern Nangarhar province late last night.
"The blasts happened among spectators, watching a cricket match in Jalalabad city, in which 9 people were killed and 42 others injured," said Ataullah Khogyani, the provincial spokesman.
"All the injured people were transferred to provincial hospital and the some are in critical health conditions," Khogyani added.
Hedayatullah Zaher, the organizer of the match is among those killed in the incident, the spokesman further said.
It should be noted that local radio journalist was also among the injured people.
No group or individual has yet claimed responsibility for the attack.