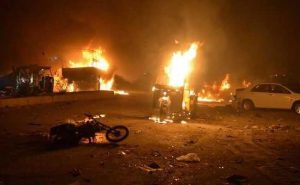 A bomb exploded near a crowded market in the Pakistani city of Quetta on Saturday, killing at least 15 people, according to local officials.
The powerful blast hit as a paramilitary patrol passed by on the road, Baluchistan provincial home minister Sarfraz Bugti said, adding the patrol may have been the target.
"According to the information we have received so far, 15 people were killed and around 40 others were wounded," Bugti said. According to NDTV.
Quetta's chief of bomb disposal squad, Aslam Tareen, said initial information was that a suicide attacker rammed a motorcycle into a military vehicle. Pakistan's army press wing said.
General Qamar Javed Bajwa said that terrorists were trying to disrupt Monday's celebrations of 70 years of independence from Britain.
ISIS claimed the attack shortly afterwards, saying a motorcycle suicide bomber had killed 17 soldiers.