The Afghan ministry of counter narcotic (MCN) expressed concerns over the production of drugs in the country.
---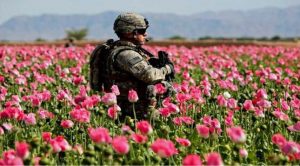 The ministry of counter narcotic vowed in a statement that in 2017, 9000 tons of drugs produced in the country, an unprecedented and worrisome figure.
Drug production in 2017 is doubled comparing to the last year, the statement said.
The ministry further said that a national and international step is required to fight against this ominous phenomenon and called on the people for cooperation.
It is worth mentioning that more than 3 million people are addicted to the drug in the country.
According to experts, America and Britain military presence had a flagrant role in stepping up drug production during the past 17 years.