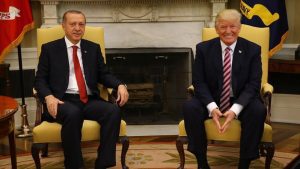 President Donald Trump and his Turkish counterpart, Recep Tayyip Erdogan, discussed ways to strengthen the Turkish-American relationship during their first face-to-face, the White House said after they met Tuesday.
"President Trump reiterated the commitment of the United States to the security of our NATO ally Turkey and the need to work together to confront terrorism in all its forms," the executive mansion said in a readout of the meeting.
At the White House earlier Tuesday, Erdogan said, "We are committed to fighting all kinds of terrorism, without any discrimination whatsoever, that impose a clear and present threat upon our future. Quoted from (Anadolu).
"There is no place for terrorist organizations in the future of our region," he added.
The two leaders met amid strong disagreements between the U.S. and Turkey regarding Washington's support for the YPG as Turkey views the group as the Syrian offshoot of the terrorist PKK organization.
The Pentagon said last week the U.S. would begin directly arming the YPG.
During their joint news conference, Trump voiced support for Ankara in its fight against Daesh and the PKK, saying the U.S. would work to ensure that terror groups "have no safe quarter".
And during a meeting with Turkish Defense Minister Fikri Isik, Defense Secretary James Mattis "reaffirmed support for Turkey in its fight against the PKK and plan to increase cooperation on Turkey's counter-PKK efforts.
"The leaders firmly agreed on concerns regarding the PKK, a U.S.-designated foreign terrorist organization that has orchestrated the killing of innocent Turkish civilians and Turkish soldiers," Pentagon spokesman Dana White said in a statement.
Trump and Erdogan will next meet May 25 at a NATO summit in Brussels.