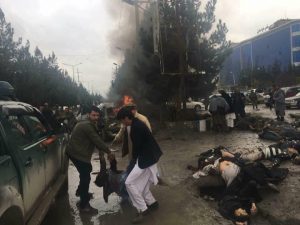 The national Coalition for the salvation of Afghanistan in reaction to the blast occurred at the entrance door of Qasr-e Naween hotel where a conference was held in support of Ata M Noor, says the explosion cannot prevent the coalition's success.
"The explosion near the gathering of our friends and elders in Kabul, once again disclosed the face of the conspirators and ARG residents," said a statement by the Rescue Coalition.
The national Rescue Coalition described the blast a "cowardly move" adding such moves cannot prevent a decisive battle.
Thursday blast at the entrance door of a hotel where fans of Ata M. Noor were gathered killed 8 policemen and dozens civilians.