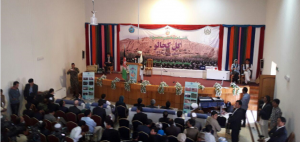 First Gul-e Kachalo festival was held today (Thursday, 13 July) for two days.
Minister of agriculture, Bamiyan's local officials, farmers and the people of the province attended the festival.
The speakers stressed on the growth and enhancing agricultural products, specially the potato in the province.
The farmers called on the concerned authorities at the ceremony to pay serious attention to the implementation of revised eggs, building store houses, and cold stores.
Mawlawi Yusif Mozahari, chairman of the Bamiyan provincial council urged ministry of agriculture to help to develop and to cultivate agricultural products of the province.
Asadullah Zamir, minister of agriculture considered Bamiyan province as the center of growing agricultural crops, and said: "Bamiyan's potato provides more than 60% of the potatoes in the country."
"In the last two years, several stores of potatoes and water have been made in this province that irrigate hundreds of acres of land," Mr. Zamir said.
"In addition, 2 clinics have been established to identify and treat diseases of agricultural products in this province," he stated.
"This year, the ministry plans to allocate 1325 acre of gardens, 3 mobile clinics, 1200 flower-beds and 180 tons of revised seeds to this province," Mr. Zamir added.
Mr. Zimir said that the Agricultural Research Center will soon be set up in the "Mullah Gholam" area of Bamiyan Province.