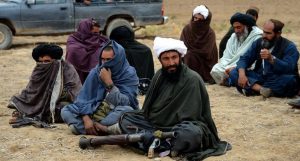 On the occasion of 98th anniversary of country's Independence Day, Taliban in a statement to foreign forces said that they should learn from their shameful failures and it's better to abandon Afghanistan.
"Taliban considered Afghanistan's Independence Day full of proud and achievements for the people, and said: Afghan people defeated the colonialist Britain by sacrificing themselves," the statement said.
"Taliban group congratulated the Independence Day, adding that unfortunately, the commemoration of the 98th anniversary of Independence is repeated in a situation, when the American colonialist including the Britain have planted the filthy claws of aggression in our beloved country." the statement added.
It has come in other part of the statement that current Americans should learn from their three decades aggression.
The group also pointed to the unfinished war of the U.S and its allies in Afghanistan, saying "it's a sign of their failure."
"You have destroyed 150,000 of your own soldiers and 400,000 other hired soldier along with all of their military vehicles," the statement further added.
The Taliban group also said: a better option and a way out is to leave Afghanistan and let the Afghan nation to live with peace like other nations.
It is noteworthy that the Taliban had urged the American president in an "open letter" to withdraw all of his forces from Afghanistan.