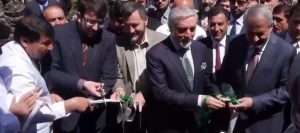 Afghanistan's first ever grapes and raisins processing factory is soon to be established in the northern province of Parwan.
The foundation for the new factory was laid on Friday by Afghanistan's CEO Abdullah Abdullah.
Abdullah highlighted the importance of investment in Afghanistan's agriculture sector and said investing in this sector will help Afghanistan become self-sufficient and end its dependence on foreign products. Quoted from (Wadsam).
A joint investment by the Afghan government and private sector, the factory will start its operations in four months.
The factory will provide job opportunities to at least 300 locals. It has the capacity to process almost 200 tons of raisins and grapes a day.
Meanwhile, Parwan governor Mohammad Asim expressed his concerns over the issue of land grabbing in Parwan province and urged the government to address the issue as it hinders investment growth in the province.