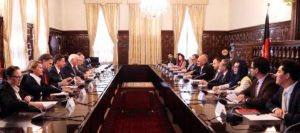 President Ashraf Ghani suggested using of Afghanistan's lithium to German President Fank-Walter Steinmeier in Germany's automotive industry.
Steinmeier was on an announced visit in Afghanistan last week to meet German troops in Mazar-e-Sharif.
President Ghani welcomed President Steinmeier to Kabul and thanked him for the visit. President Ghani said, "The Afghan-German relations are age-old and we are happy that we celebrated the 100th anniversary of our relations. We hope these relations will be further widened."
President Ghani described the domestic mineral resources as a crucial element of our economic growth. He particularly spoke of lithium mines located in the Northern provinces, saying that the under-ground resources require an effective management and that the lithium in Helmand province is of a very high quality which can be properly utilized in the car manufacturing industries.
In response to this, the German president assured President Ghani about cooperation between German car manufacturing companies with Afghanistan in exploitation of the lithium mines. Quoted from (Wadsam).
Afghanistan's untouched wealth of minerals, including lithium, the silvery metal used in mobile and computer batteries, is estimated to be worth from USD 1 trillion to USD 3 trillion.
On the economic growth, location of Afghanistan and opening transit routes, President Ghani commented that Afghanistan is now being economically and commercially connected with the Central Asia via dry ports and railways. He added that through ever-boosting commercial ties with India and China, the Afghan economy will flourish which will positively affect the entire region.