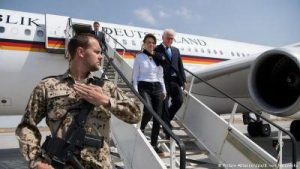 German President Frank-Walter Steinmeier arrived in Afghanistan on Thursday on an unannounced visit.
He landed in Mazar-i-Sharif, where most of the German troops are based in.
Steimeier, accompanied by his wife, is expected to meet with German troops, Germany's public international broadcaster Deutsche Welle reported.
He arrived in Afghanistan after visiting Kazakh, capital Astana where he attended an international exhibition on global energy.
The visit comes amid growing insecurity in Afghanistan. It comes six weeks after a tanker bomb exploded outside the German embassy in Kabul, leaving at least 150 dead and injuring hundreds.
The attack was deadliest in the capital since 2001 and it prompted Germany to temporarily suspend deportation of Afghans.