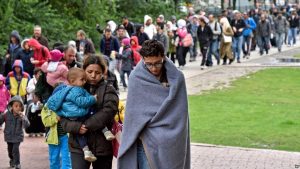 Just weeks after a spate of attacks in Kabul forced Germany to halt deportations to Afghanistan, plans for more flights are reportedly afoot.
Failed Afghan asylum-seekers could be forced home as early as next week.
Germany could restart its program of deportation of failed asylum-seekers to Afghanistan as soon as next week, German media reported on Thursday. According to (Deutsche Welle).
After the bombing, Germany's federal and state governments agreed on a suspension of deportations to Afghanistan until a further security assessment by the Foreign Ministry.
German Chancellor Angela Merkel said the halt would likely last until July.
Merkel also said they would continue to deport criminals and security threats as well as those who did not want to release their identity.
Germany halted its controversial deportation program earlier this month after Afghan capital, Kabul, was struck with one of its deadliest suicide bombings.