According to ARG palace, the Pakistani PM Shahid Khaqan Abbasi called Mr. Ghani late Tuesday to pass on his condolences but Ghani refused to take his call.
---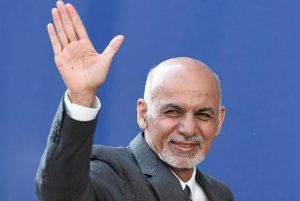 Instead Ghani sent a delegation including Masoom Stanekzai, the chief of the National Directorate of Security, and Interior Minister Wais Ahmad Barmak to Pakistan to handover evidence relating to the recent attacks in Kabul.
This comes after Kabul was attacked by a wave of terror assaults over the past weeks, which claimed the lives of 150 people and wounded scores.
On Monday, Trump suggested he sees a military victory over the Taliban, an outcome that military and diplomatic officials say cannot be achieved with the resources and manpower he has authorized.
"I don't see any talking taking place," Trump told reporters as he began meeting at the White House with members of the United Nations Security Council.
"I don't think we're prepared to talk right now. It's a whole different fight over there. They're killing people left and right. Innocent people are being killed left and right."
"When you see what they're doing and the atrocities that they're committing, and killing their own people, and those people are women and children … it is horrible," Trump said.
"We don't want to talk to the Taliban. We're going to finish what we have to finish, what nobody else has been able to finish, we're going to be able to do it," he added.
According to experts, Kabul has a cross-sectional policy against Pakistan, and it has been followed by the United States which is not in the interest of the country.
Kabul believes that terrorist sanctuaries are in Pakistani territory and that terrorists devise their attacks in Afghanistan from there, something that Pakistan has always rejected.
Meanwhile, in response to Trump's comments, Taliban claimed the Afghan government has no authority in peace talks, saying they will negotiate with Kabul once foreigners abandon Afghanistan.