Cutting constructional projects ribbon, are games to run up for electoral campaigns than focusing on public projects.
---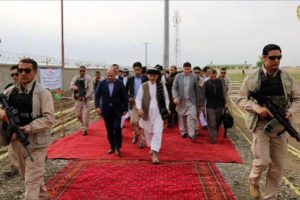 In poor countries, where the public's level of understanding from political games and movements is less than their knowledge, politicians always get the most benefit out of folk work and election campaigns in the process of gaining power.
Afghanistan is not an exception. There are a lot of politicians who take power and impose force by relying on demagogic measures and vulgarized slogans. Right now, a large number of them who occupied a position in the government, have used such situation, enjoying huge financial and political gains.
Considering the necessities that a democratic society determines for individuals to reach power, now, we should have witnessed the rise of a number of politicians who hold political thought settlement and stability in their performances. In Afghanistan, however, we have seen less such cases and less politicians whose main concern was to service a geography named Afghanistan as well as servicing an establishment based on the laws of the country.
As electoral campaigns approaching, we will see activities that have no long-term regional or national backing. However, it seems that some election-oriented measures have been switched in the past year. For example, Bamyan airport which has been inaugurated several times. President Ghani has also recently traveled to Bamyan to open the airport. The number of development projects that are "inaugurated" by senior government officials, particularly the president, are not few. The president repeatedly travels to different provinces for projects. The chief executive officer Abdullah also attends meetings that are more newsworthy than content, creating some sidelines for election campaigns.
Cutting constructional projects ribbon, are games to run up for electoral campaigns than focusing on public projects. The president's trips to regional countries and provinces aimed at creating better economic conditions for the people, improving education, electricity, roads, connecting villages to cities and so on. However, it seems the president is not reluctant to even interfere in the appointment of a provincial education chief under the pretext of improving the educational situation of a province. An example of this kind of interference is the appointment of loyal people to the president as head of education in some provinces with the decree of the president.
Major economic projects that are welcomed only by holding magnificent circles and cutting off the tape, are mostly not only the outcome of national unity government (NUG) but will not be completed at the time of NUG either, Because the benefit-oriented factional bureaucracy for financing projects will hinder the implementation of these projects. Now that months have passed since the new fiscal year, most ministries have not been able to obtain funds from the Ministry of Finance to implement their projects. There are concerns these resources will be wasted in the interests of factions and groups on the cost of electoral games axis.
The president's trips to Herat and Ghor provinces were a news for election popularity than being trips for reforms. If this project is operational in short-term and four countries seek to fulfill this, now the pipeline should have been completed from the origin to the borders of Afghanistan, and other countries have also taken actions to establish infrastructures on their soils. The TAPI project is nothing but a few painted pipes on the Turkmen border. India and Pakistan are also waiting to see the start of the project in Afghanistan.
Now, it seems the government is cutting off the election campaign tapes by cutting false projects' ribbon. It is also very likely that travels for election and opening electoral projects will increase. It is better for the government to report on the status of projects that were launched in the past years which have not been completed rather than inaugurating deceptive projects.
By Faramarz Dawlatabadi
Translated by Zaher Mahjob