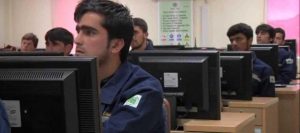 The Afghan Ministry of Labor, Social Affairs, Martyrs and Disabled (MoLSAMD) said 46 more vocational training centers would be established in the near future.
Presently, there are 45 vocational training schools across the country that are providing education to locals in various fields including auto repair, electrical engineering, plumbing, construction, tailoring, general maintenance and computer technology.
According to Afghan Chamber of Commerce and Industry (ACCI), almost 80% of skilled workers in Afghanistan's job market are hired from abroad due to lack of skilled workers in the country. Quoted from (Wadsam).
The Chamber called on the government to step in and set up training centers to help train more Afghan youths.
"We are obliged to hire 80% of workers from abroad to fill the gap as there is no other option," said Khan Jan Alokozay, ACCI deputy chief.
The Afghan-Korea Vocational Training Center is the biggest institution providing training to around 1,000 Afghans.
Trainers at the institution urged the government to support the institution and boost their capacity so that more students can join.