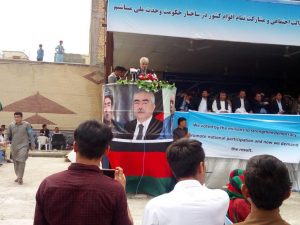 A member of Ahmad Z. Massoud team in Mazar-e Sharif considered the president's program tricky and said that Gulbuddin Hekmatyer is being used as a tool.
According to (DID) news agency report, Rahmatullah Bezhanpoor, a member of Ahmad Zia Massoud's team who was talking to the supporters of Gen. Abdul Rashid Dostum, leader of the national Islamic movement of Afghanistan in Mazar-e Sharif, besides criticizing the president, due to giving point to the Anti-government opposition said: Gen. Dostum and Ahmad Shah Massoud were those who had a key role during resistance and defeating Taliban.
"The president is taking revenge for the defeat of Taliban by accepting Hekmatyar and pushing out Gen. Dostum and Ahmad Zia Massoud from the scene," he added.
He also said that Hekmatyar's presence in ARG is a good opportunity to compensate the past and having access to peace, but warned that the government misuses Gulbudding Hekmatyar.
Bezhan asked from Atta M. Noor, Balkh governor to think about political future of north provinces of the country.
It is noteworthy that on Thursday Gulbuddin Hekmatyar, leader of Hezb-e Islami of Afghanistan entered Kabul after 20 years exile, based on the agreement between the government and national unity government and also spoke in ARG with senior political leaders of the country.