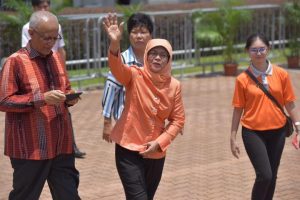 Madam Halimah Yacob, a Muslim woman and a former speaker of parliament, was elected as Singapore's first woman president on Wednesday.
Aiming to strengthen a sense of inclusivity in the multicultural city-state, Singapore had decreed the presidency, a largely ceremonial post, would be reserved for candidates from the minority Malay community this time.
"Although this is a reserved election, I am not a reserved president," Halimah said in a speech at the elections' department office. "I'm a president for everyone." According to Reuters.
Madam Halimah said it was now time to stand together to focus on making Singapore a great home for everyone, now that the election was over.
Halimah's experience as house speaker automatically qualified her under the nomination rules.
Of the four other applicants, two were not Malays and two were not given certificates of eligibility, the elections department said earlier this week.
The last Malay to hold the presidency was Yusof Ishak, whose image adorns the country's banknotes.
The separation of Singapore from Malaysia gave ethnic Malays a clear majority in Malaysia, while ethnic Chinese formed the majority in independent Singapore.
Madam Halimah, 63, was the only presidential hopeful who was given the green light to stand for the office, having held the key government post of Speaker of Parliament since 2013.