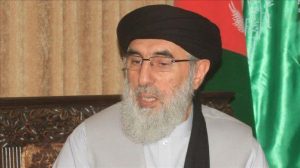 Reports suggest that leader of Hezb-e Islami Gulbuddin Hekmatyar will probably travel to Turkey and Arabia as tensions stepped up within groups of this party.
It is said Mr. Hekmatyar has dismantled Hezb-e Islami's Shiite affairs directorate before the trip, and the Shiite members have joined the Arghandiwal branch of Hezb-e Islami.
According to DID news agency report, Hekmatyar is expected to travel to Turkey to get the consultations and supports of Turkish president Erdogan, and then to Saudi Arabia.
According to sources, the leader of Hezb-e Islami dismantled the Shiite affairs directorate – which he was created to arrange the Shiite members of this party – to attract the Saudi satisfaction.
Eliminating the Shiite directorate at Hekmatyar's branch has stepped up differences within Hezb-e Isami, and members of this branch have joined the Arghandiwal's branch.
Reports from inside Hezb-e Islami also indicate that Hekmatyar's position in this party has been highly undermined, and opponents within his party claim that Hekmatyar is in the monopoly of family circle – son-in-laws and the European group of Hezb-e Islami – and other decisions are ignored.
Differences between Hekmatyar and Arghandiwal over the leadership of Hezb-e Islami have recently led to a split in this party.