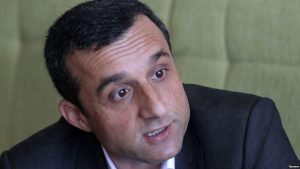 Former chief of national directorate of security Amrullah Saleh claimed on Saturday that Gulbuddin Hekmatyar is preventing the trial of IS-related detainees and a number of these detainees are being released from prison by his meddling.
Mr. Saleh's rhetoric faced Hekmatyar group's reaction and was rejected, but in response, Mr. Saleh wrote on his official Facebook page: "Hekmatyar's spokesman, having Peshawari literature, party-spirit, and aggressively rejected my information about Hekmatyar's links with arrested IS fighters. I again tell the Afghan people that more than twenty Daesh affiliates detained by the government, have had links with Hekmatyar's group."
"Hekmatyar himself has repeatedly called on the government to release them [IS fighters] and prevented their cases to be referred to the court," he wrote.
Insisting on his stance, former chief of national directorate of security urged the national council and international community to form a delegation to inspect the issue and review the files of all the defendants related to Daesh group.
He claimed that all those defendants had contact with Hekmatyar in the past or now: "if the claim is baseless, a group from the national assembly and civil society should visit the government's deposits and review the list of all defendants."
According to Mr. Saleh, it is important, the people should be informed that how many suspects and defendants have been released by Hekmatyar's direct intervention and why? Has Hekmatyar surrendered and made peace, or that he built a 'terrorist training nest' in the name of peace in Darul Aman.