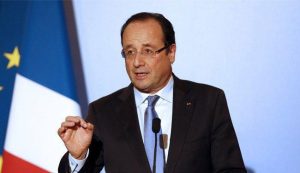 Francois Hollande, the French president warned Saturday about the withdrawal of his country from the European Union, saying to set aside "Euro" and come back to Frank (France's previous unit money) will seriously damage people's purchasing power.
Francois Hollande, who was speaking at the 6oth anniversary of the European Union establishment in Rome (capital of Italy), noted that some want to leave the Union, leave them alone to prove to France nation that we will have better status, if we be alone. Quoted from (IRNA).
Hollande stressed in the statement which was released by Franc's presidential office, that they will never be able to prove this to the people of France, because returning to France's previous unit money, will eventuate into decrease of currency and seriously damage the people's power purchase, on the other hand, France's border closure will make a lot of people, to lose their jobs.
In addition, "Francois Villeroy" head of France's central bank, and one of those involved in Europe's central bank policy, warned about the negative consequences of the withdrawal of France from "Euro" zone and in an interview with (Ouest-France) newspaper added: withdrawal from "Euro" zone and 20 percent decrease of France's monetary value, means that the costs of imported goods will increase correspondently.
French government officials made statements at a time, when recent survey results show the increasing popularity of the extreme right party in the upcoming election; the stream that agrees Frexit approach from the European Union.