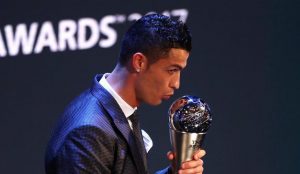 Chris Ronaldo once again succeeded in becoming the best player of the year, this time defeated Messi with more differences.
Cristiano Ronaldo could win 43.16 percent of the vote which includes votes from players, coaches, reporters and supporters from all over the world, while Messi got the 19.25 percent and Neymar received 6.97 percent of the vote.
Last year, however, the difference of the scores between the two football star were much lower than this year. In fact, Ronaldo achieved 34.54 percent while Messi had won 26.42 percent of the vote.
According to the votes of coaches, captains and fans of football, this year Ronaldo has had more differences than last year with his main rival.
Zidane, who won the title of the best coach of the year, is more in contrast with Antonio Conte. The French coach has won 46.22% of the vote, and Conte won 11.26% of the vote, as Allegri received 8.78% of the vote.