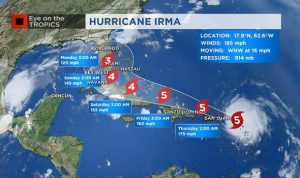 Hurricane Irma is lashing Cuba with strong winds and heavy rain after devastating several Caribbean islands.
In Florida, 5.6 million people, or 25% of the US state's population, have been told to leave as the storm approaches. At least 23 people are known to have died so far.
Irma, which strengthened in the last few hours, hit the Camaguey Archipelago late on Friday, threatening nearby coastal towns and villages. Quoted from BBC.
This is the first time a category five hurricane has hit Cuba in decades.
Some communities have lost power, and communication is becoming increasingly difficult with towns in more remote areas.
Irma is expected to hit Florida on Sunday morning.