The Indonesian President Joko Widodo proposed Friday the establishment of a committee of Islamic scholars from Afghanistan, Indonesia and Pakistan to promote a peaceful settlement of the Afghan conflict.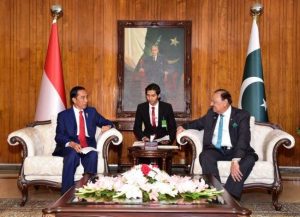 According to VOA, Mr. Widodo made the proposal as he opened a two-day official visit to Islamabad along with a large delegation of ministers and business leaders from Indonesia.
Widodo told Pakistani President Momnoon Hussain that Indonesia could play "a positive role" in the Afghan peace process, according to an official announcement after the meeting between the two leaders.
"He [Widodo] also proposed the establishment of a committee of Indonesian, Afghan and Pakistani Ulemas [Muslim scholars] for this purpose," the statement read.
According to the statement, the Pakistani president accepted the Mr. Widodo's proposal.
The Afghan officials have not yet commented on the issue.
The Indonesian foreign minister had previously posed the issue of hosting Taliban's office during his visit from Afghanistan.
According to experts, Indonesia is pushing to have a role in Islamic countries issues and chose the Afghan peace as an initiative.