The Indonesian president, Joko Widodo, is visiting Kabul on an official trip to Afghanistan, the Afghan presidential palace said in a statement.
---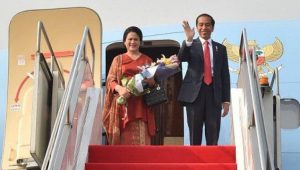 According to the statement, Mr. Ghani and Widodo will hold a joint press conference after their meeting on Monday.
The Indonesian president officially visit Kabul after proposing to establish a council of Islamic scholars from Afghanistan, Indonesia and Pakistan to help Afghan peace.
"He [Widodo] proposed the establishment of a committee of Indonesian, Afghan and Pakistani Ulemas [Muslim scholars] for this purpose," VOA reported.
This comes as the Indonesian foreign minister had previously posed the issue of hosting Taliban's office during his visit from Afghanistan.
According to experts, Indonesia is pushing to have a role in Islamic countries issues and chose the Afghan peace as an initiative.