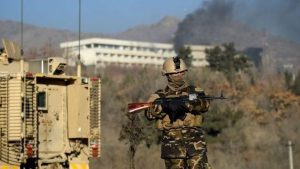 The Afghan interior ministry vowed investigation from security staff of Intercontinental hotel have been started and several individuals arrested in relation to the incident.
"Currently, this issue that how the suicide attackers crossed the security checkpoints and entered the hotel is under investigation," said Najib Danish, the spokesperson of the interior ministry.
Earlier, Interior Minister Wais Ahmad Barmak had told the BBC, it was likely that the attackers would have been involved with people connected with the security sector of the hotel.
"5 to 10 suspects were investigated," Danish added. Refused to add further details.
This comes as Afghan government sources had claimed Haqqani network was behind the attack.
A private company had taken the responsibility of providing the security of this hotel. The firm has been licensed for many years. Mr. Danish said that the company had obtained the license for the security of intercontinental hotel through a competitive program.
"The number of casualties did not change, with 22 killed, including 14 foreigners. 10 people were injured, 6 of them were police forces," the spokesman said.