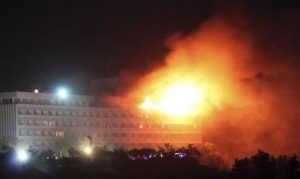 Clashes between Afghan security forces and suicide attackers ongoing at international Intercontinental Kabul hotel after the elapse of 10 hours.
Four suicide attackers entered the hotel last night after killing the security guards at 9:20 pm (local time).
According to the Afghan interior ministry spokesman Najib Danish, the Afghan special forces immediately reached the area and clashes ongoing with the attackers.
According to him, primarily investigation indicate the attackers could enter the hotel from behind where it is covered with jungles and through the kitchen of the hotel.
It is said the Afghan security forces could shot down three of the attackers and one other remained inside the hotel.
At least 7 blasts have taken place since last night.
The foreign forces have rushed to help the Afghan security forces early morning.
It is said that about three weeks ago, a private security firm took the security responsibility of the area.
"At least 5 people were killed and the injured people transferred to emergency and Mohammad Wazir Akbar Khan hospitals," said Muhibullah Zeer, a public health ministry official.
The Afghan interior ministry says, all of the hostages have been freed.
According to him, the security forces do not let the ambulances to enter the area due to insecurity and a number of injured people were transferred to hospitals.
"The exact number of casualties has not yet clear," he said.
The security forces do not let the journalists get close to the area.
The Intercontinental had been due to host an information technology conference Sunday, with more than 100 IT managers and engineers on site when the attack began, Ahmad Waheed, an official at the telecommunications ministry, told Reuters.
A wedding ceremony was ongoing at the hotel too.
According to some reports, 15 people have been killed and over 50 others wounded, but the eyewitnesses say the number of casualties is more than what the Afghan officials announced as well as bodies of foreigners seen at the area.
Most major political events, news gatherings as well as provincial administrative meetings and workshops are held in this hotel as well as a large number of foreign citizens residing there.
Blasts and clashes still can be heard from the area.