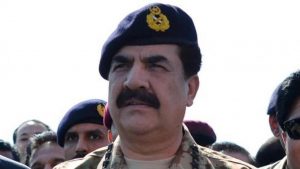 Mehdi Huna Dost, Iranian ambassador to Islamabad, criticized about the appointment of General Raheel Sharif, former chief of the Pakistani army, as the commander of Islamic countries' coalition led by Arabia, that fight against Houthis in Yemen.
"The appointment harms the union of Islamic countries and has followed concerns of Iranian officials, too." Mehdi Hunar Dost said.
Khawaja Muhammad Asif, defence minister of Pakistan, recently vowed that following the formal request of Saudi Arabia, General Raheel Sharif, former commander of Pakistan army, accepted the headship coalition of 39 Islamic countries led by Arabia for war against Shiites or Yemen's Houthis. quoted from (Radio France).
The appointment of Raheel Sharif to this post, has posed a problem between Tehran and Islamabad's relations; specially since Yemen's civil war is a proxy war between Iran and Saudi Arabia.
Meanwhile, Tehmina Janjua, Pakistan's foreign minister stressed that her country would not conduct measure against Iran's interests.
It is said that General Sharif has accepted the Saudi suggestion for commanding military alliance of Muslim countries, provided that the Islamic Republic of Iran be invited to join the coalition.
But, Mehdi Hunar Dost, Iranian envoy to Islamabad has said that Iran does not intend to join the coalition.
In response to criticism of Tehran, former commander of the Pakistani Army, Gen. Bajwa said that Islamabad has never criticized the relations of Iran and India, therefore expects that the Islamic Republic of Iran will not criticize the attendance of Pakistan to military alliance of Islamic countries led by Arabia