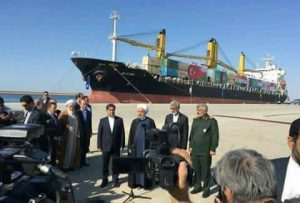 The Iranian president Hassan Rouhani, who arrived in Chabahar on Saturday to open the first phase of Shahid Behshti Port, said that the North-South Transport Corridor will reach the Indian Ocean via the port.
"The international Shahid Beheshti Port in Chabahar has been launched to connect the eastern and northern neighboring countries to Indian Ocean, adding that the North-South Transport Corridor is the main project among others, which connect the south of Iran to the north," Rouhani said.
"Shahid Beheshti Port is economically important because it will facilitate transfer of deliveries and goods from the Indian Ocean to the neighboring countries like Afghanistan and Central Asian countries." he asserted.
India committed up to $500 million for the development of the Chabahar port along with associated roads and rail lines. For India, the investment in Chabahar was important since the port will bolster a trade route for land-locked Central Asian countries that would bypass rival Pakistan.
The port is expected to be operational by the end of 2018, Union Minister Nitin Gadkari had said.