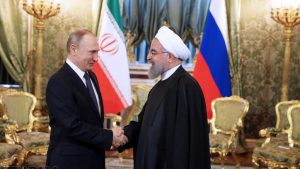 Following Hassan Rouhani's trip to Russia, a joint press conference of him and Vladimir Putin was held in Moscow Kremlin.
Iran's president, who claimed that has met Putin 9 times so far, said that bilateral relations has entered a new stage. Putin and Rouhani also stressed that cooperation between the two governments will continue to resolve Syria's issue.
Vladimir Putin, Russia's president at the meeting said that cooperation between Tehran and Moscow at the regional level, provided the possibility of establishing a cease fire in Syria. According to foreign media.
"We consider strengthening the cooperation between the two countries very important, in the fight against international terrorism. Russia and Iran coordinate their measures to destroy Daesh (ISIS) and Al-Nusra front and this would help to resolve Syria's issue." He added.
"Iran is a good neighbor and a confident and stable partner for Russia … Iran and Russia have a long-term relationship with each other and have diplomatic relations with the background of more than five hundred years. Putin had said before starting the press conference.
However, some political commentators believe that Iran is concerned about the change in Moscow's policy on Syria.
But the president of Russia stressed on "Tehran, Moscow and Ankara" partnership to establish a cease-fire in Syria.
Rouhani also said that Astana negotiations (capital of Kazakhstan), that "Iran, Russia and Turkey are the founders, will be continued."
Iran's president noted the cooperation of the two countries, and said, we are in a new stage of relations and by the implementation of small projects have moved to a large and long-term projects.
It is noteworthy that 14 documents of cooperation in various fields were signed between the two countries, during Rouhani's trip to Russia. Among the documents included "an agreement on the abolition of visas for tourist groups between the government of Islamic Republic of Iran and the Russian Federation" or "agreement on the transfer of the convicts" or "memorandum of strategic cooperation agreement between railways" of the two countries.
The most important issue of Rouhani's meeting with the Russian officials, was Syria issue, which the details of the talks on this subject has not been published.
Muhammad Jawad Zarif, Iran's foreign minister, who has gone to Moscow along with the president of the country, said that Russia can use Iran's military bases to counter "terrorism", if necessary, but the usage will be "cases by cases" and in every measure, it needs Tehran's agreement.