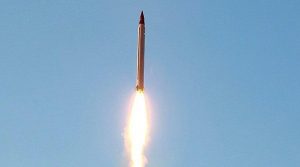 Iran on Friday successfully test-fired its new ballistic missile,"Khorramshahr", named after Iran's southwestern city of Khorramshahr.
The new missile was unveiled in a military parade in Tehran on Friday.
Video footage aired by the Islamic Republic of Iran Broadcasting (IRIB) on Friday evening showed the missile launched from an unknown location, Tasnim news agency reported.
The video also contained telemetry camera footage from four different angles which showed the moment when the warhead of the missile was discharged.
Khorramshahr ballistic missile has a range of 2,000 kilometers with ability to carry 1,800 kilograms multiple independently targetable reentry vehicle (MIRV), said Commander of the IRGC Aerospace Force Brigadier General Amir Ali Hajizadeh.