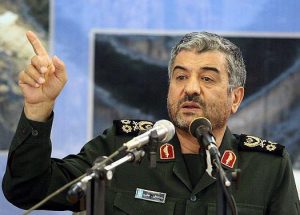 Mohammad Ali Jafari, the commander of the Iranian Revolutionary Guard Corps, said that if the United States wanted to pursue the issue of a defense boycott and the Revolutionary Guard sanction, it must collect its regional bases, up to a thousand kilometers around Iran beforehand.
"America's computational mistake will cost it a lot," he said.
Jafari who was speaking at the conference of the IRGC commanders in Mashhad, stressed: "Iran's missile capabilities are not worth a deal and even it is not negotiable."
"We defend the missile power as zealous men defend their honor," he added.
"Iran's missile power in the air, sea, and land is growing rapidly, and this is an absolute principle for us," the senior Iranian military official underlined.
The Iranian President, Hassan Rouhani recently ruled out new sanctions against the Islamic Revolutionary Guard Corps and found it incompatible with the commitments made in the Bargam.