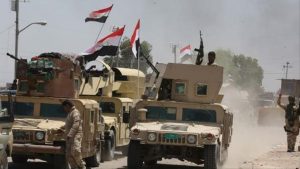 Iraqi defense ministry started an operation against Daesh terror group in western areas of Anbar province.
"The army, the Hashed Al Shaabi and the border guard launched a major operation to retake Akashat in Anbar province," said General Abdul Amir Yarallah, deputy head of the Joint Operations of the Iraqi defense ministry.
This is the last operation against ISIL in western areas of "Anbar" located near the borders of Syria, Jordan, and Saudi Arabia.
The operation is conducted while the Iraqi army is preparing for an expanded measure against Daesh in Al-Hawija area of Kirkuk province and its surrounding and in Al-Sharqat area of Salah-Addin province.
It should be noted that ISIL has lost most of the areas that took the control of northern and western parts of Iraq in 2014 after the Iraqi army began operations.