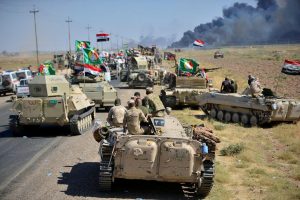 Iraqi forces said Thursday they had retaken the center of ISIS group stronghold Hawija and were pushing forward in their attack on one of the last Daesh enclaves in the country.
Troops, police and paramilitaries "liberated the whole of the center of Hawija and are continuing their advance," the operation's commander, Lieutenant General Abdel Amir Yarallah, said. Quoted from Telegraph.
The operation, which first began on September 21, features Iraqi army troops and police forces, backed by volunteer fighters of Popular Mobilization Units, better known as Hashd al-Sha'abi.
Hawija, 140 miles north of Baghdad, is one of just two significant areas of Iraq still held by Daesh.