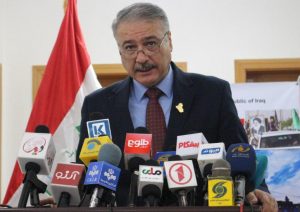 A press conference with the subject "liberation of Mosul" out of Daesh (ISIS/ISIL) control was held today at the embassy of the Republic of Iraq in Kabul.
The Iraqi ambassador in Kabul vowed that the ancient city of Mosul has returned under the sovereignty of the Iraqi government after three years.
"The Iraqi people and government fought against ISIS on behalf of the whole world and destroyed the largest terrorist group," he added.
He also mentioned the great role of religious authority in the liberation of Mosul, and said: religious authority had an important role in the course of the popular uprising and the formation of "Al-Hashd Al-Shaabi" or popular mobilization forces.
"Friendly countries, under the international coalition or outside it, played a significant role in supporting the Iraqi government in this battle," the Iraqi ambassador stressed.
In response to the question of reporters about the fate of Abu Bakr al-Baghdadi, he said: "we have no accurate information, whether he is alive or dead."
The city of Mosul fell to ISIS group in 2014, and the government of Iraq with the cooperation of other nations and the popular uprising has been busy recapturing Mosul for almost nine months that finally defeated ISIS and took the control of the city this week.