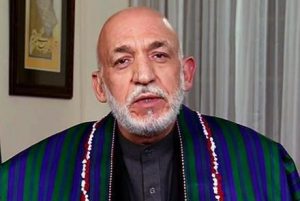 Former Afghan president Hamid Karzai accused US of cooperating with ISIL, saying American intelligence agencies are backing up this group.
"I believe Daesh (ISIL) has completely emerged under military, political, and intelligence cooperation of America," Hamid Karzai said in an interview with Aljazeera news network.
He further added destroying the tunnel caved by Daesh in Nangarhar, was an excuse to test Mother of all Bombs, saying "ISIL captured another district of Afghanistan a day later, this proves there is a hand behind the case and that is America."
Accepting human rights violations at the time he was in power, Hamid Karzai says he welcomes prosecutions of war criminals in the country.
President Karzai disagreed to US security agreement during his last month in office but political experts believe Karzai's recent disagreements are propagandas for the upcoming election or bypassing the election, and holding "Loya Jirga."