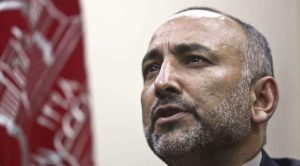 "The theory that Daesh (ISIS) and Taliban are against each other is wrong," Afghan presidential national security adviser, Muhammad Hanif Atmar said.
"The project to use Taliban against ISIS cannot be done, the way that Russia and China says." The president's adviser added. Quoted from (Fars news agency).
Atmar said that the formation of ISIS and Pakistani Taliban and the Islamic movement of Uzbekistan is a new phenomenon, they are all the same, but there have been new designations. He underlined. They may fight against each other in Nangarhar, but cooperate with each other in northern Afghanistan against Ashraf Ghani administration.
Atmar talked about the problems of Afghanistan in an exclusive interview with (India Times) newspaper, and added that a meeting will be held with Russia, India, United States and other international and regional actors to deal with the growing instability in Afghanistan a few weeks later.
"Security status is much worse in 2017 than what it was in 2009 up to 2010," Atmar said.
"Taliban backed by Pakistan, now have sheltered groups like; "Lashkar-e-Taiba" and "Jaish-e-Muhammed"- that threat India and Movement of eastern Turkistan – that threats China." He added.
"For this reason, "compromise project" that China and Russia talk about it, cannot be done the way that Moscow and China called for it, which means using Talban against Daesh (ISIS)." National security adviser asserted.