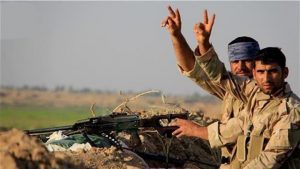 Iraqi army vowed that another location of the terrorist group was recaptured, during the attack on areas controlled by Daesh in Mosul.
According to (DID) news agency report, yesterday (Monday, May 29), a spokesperson for Iraqi military command announced that soldiers of that country have been able to penetrate into important places in the west of Mosul, quoted from (DW).
Simultaneously, Reuters news agency also quoted from "Hashd Al-Shaabi" forces (popular mobilization) that they have advanced to the Syrian border, seizing a number of villages under the control of Daesh in the west of Mosul.
It noteworthy that "Hashd Al-Shaabi" forces – Iraqi Shiite militias – are backed by Iran.
Hashd Al-Shaabi announced that with arrival to the last border village (Am-Jafiz), they have cleared this border village of Daesh and today (Thursday) will begin to completely clear Iraqi-Syrian border areas.